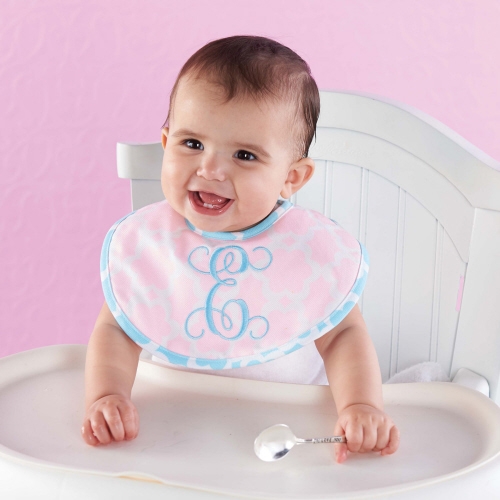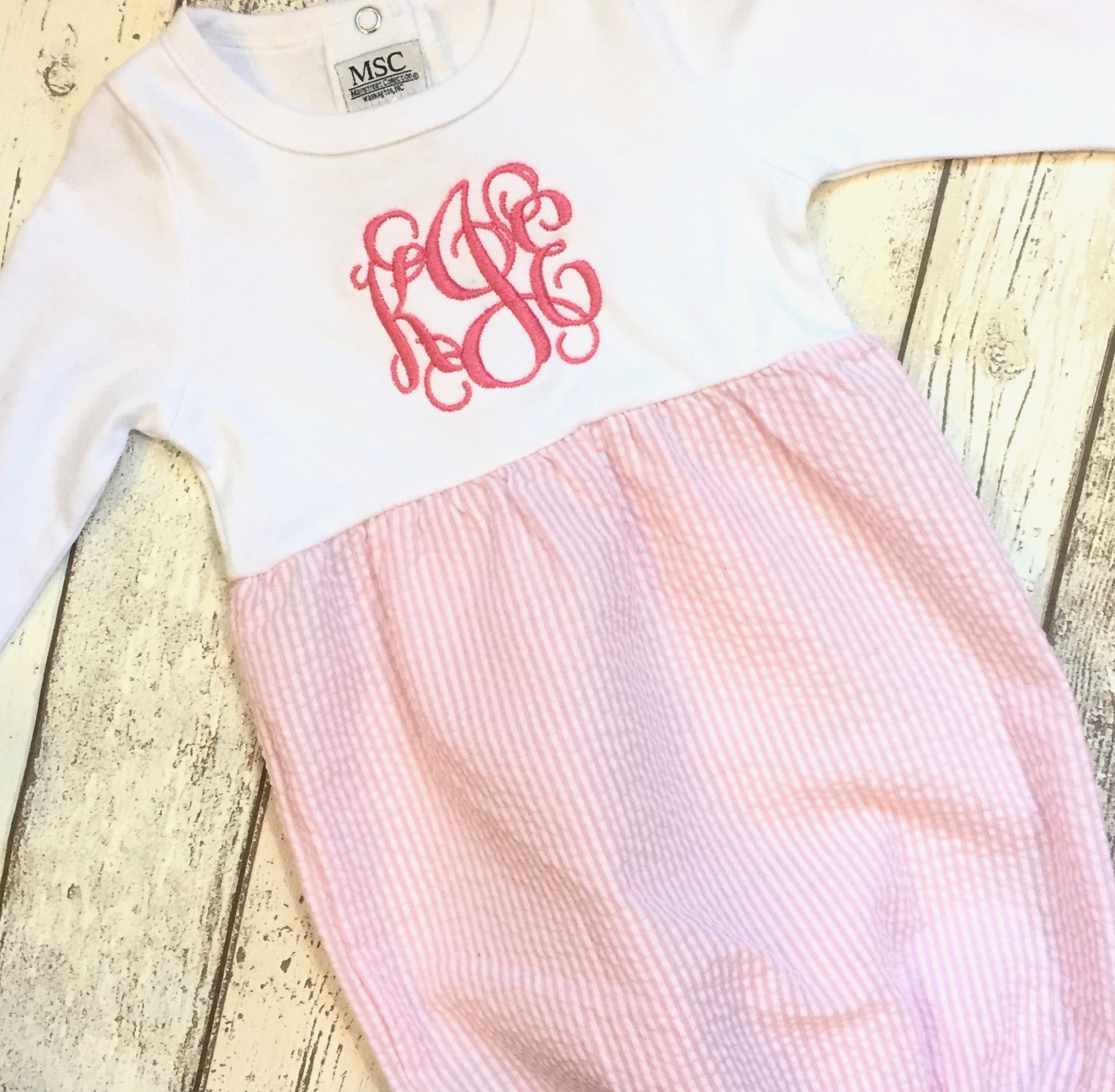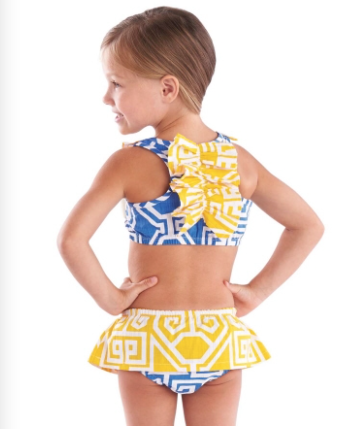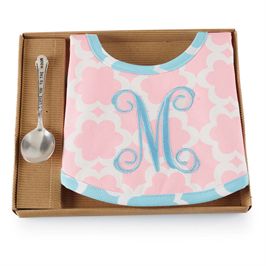 All About Our Baby Boxes
TERMS
What is in my box?
We CANNOT WAIT to send you ALL THINGS PRECIOUS! Our Baby Boxes include monogrammed gifts & baby must haves! We love seersucker, gingham, gowns, bibs, lovies (that sweet plush animal baby loves to cuddle with), drink-ware, monogrammed jewelry, and more.
Our Baby Boxes include 2 items per month. Our Baby Box Sampler includes 1 item per month. Our boxes are packaged in white boxes & pink bubble mailers.
Can I give this as a gift?
Want to have the best gift at the baby shower? Give the gift that keeps giving!
Can I make changes to my profile? (sizing preferences, monogram, etc.)
Changes: Need shipping address changed? Baby growing fast and need to update sizes? You can update your monogram info, sizing preferences, etc. to your baby box. Make changes to your baby box profile here: https://app.moonclerk.com/portal/qkw1r3xl32o/signin
Sizing Info
Our Baby Box is set up to grow with baby. We use traditional sizing unless otherwise specified. For example, if you sign up when baby is 3 months old, we will send 3-6 month items. However, if you note that baby is already in 6-9 months we will send 6-9 month items. If you sign up while baby is in mommy's belly, we will send 0-3 months, 3-6 months, etc. Not all items are clothing. We send our babies gowns, lovies, bibs, and much more.
Billing Info
Your credit card will be charged on the first of each month and your monogram box will be shipped by the 31st.
Your credit card will be charged for the current month when you sign up for the first box and will not be charged again until the 1st of the following month. Our baby boxes ship by the 25th each month. Current subscriptions and new subscriptions received by the 1st begin ship between the 5th and 25th of each month. Many items are custom made to order. Many items are special ordered. Late payments prevent current orders from shipping in a timely manner. All dates are approximate. Shipping times vary each month. All current orders ship by or before the 31st of each month. Once order has been packaged and scheduled for pickup, tracking is emailed to email address on file.
Taxes, service charges, & shipping fees are applied to your plan when applicable. Please see taxes & Service charges.
Taxes & service charges: Georgia residents 7% sales tax; All 49 states excluding GA will be charged a 7% service charge. Georgia residents will not pay service charge in addition to taxes. Service charges & taxes are not applied to shipping costs. Applicable taxes and shipping charges for your first monogram box will be charged within 48 hours of your first payment. All future charges will be included in the total cost of your monogram box payment charged on the 1st of each month.
Shipping Info
Your first Baby Box ships within 10-14 days. Rush orders are accepted and ship within 3 days. Each additional box is billed on the 1st and ships around the 25th each month.
These dates are tentative and subject to change. All orders received by 3/1 will ship by 3/31. All orders received later in the month are subject to later ship times.
Your credit card will be charged on the 1st of each month and your Monogram Box will be shipped by the 31st.
Cancellation Terms
Cancellation Terms
After 3 months you may cancel your subscription at any time. Your box will ship by the 31st of every month until you submit a cancellation request. We know you will love your box! But sometimes things happen and you may need to cancel. No problem. You are receiving this great deal for all these goodies with your 3-month agreement. After 3 months you may cancel at any time. Please give 28 days notice to cancel your box. You must notify us by the 3rd of the month before canceling. For example, you may cancel your subscription for September by August 3rd. This is 28 days before the 1st of September, when September's payment would normally be processed. Submit a cancellation request here: https://www.ginnymaries.com/manage-my-monogram-box/
Contact Us
Create an account & update your Baby Box profile here: https://app.moonclerk.com/portal/qkw1r3xl32o/signin
Contact us at: mailto:customerservice@ginnymaries.com
All emails are returned within 1-2 business days.
Our sales associates answer the phone in the boutique. They are able to answer general questions about our boxes and take orders. To make changes to your profile, submit cancellation requests, or for specific info about billing & shipping please contact us at cusotmerservice@ginnymaries.com. Our online customer service team is in charge of planning boxes, handling billing, assisting with monogramming, and ensuring that you receive the best products at the best price! The customer service team is hands on and the best equipped to answer questions and handle any issues.
Monthly Box Return Policy
*due to the custom nature of monogrammed items, these items cannot be returned unless there was an error on our part*
Returns are not accepted on monthly subscription box items. We LOVE to make items that you will love and take each and every item into account. We use only the best quality products. Please make sure to read all terms so that you have a complete understanding of what we promise and what you will receive. Ginny Marie's has put together all kinds of great info in our "ALL ABOUT OUR BABY BOX" section. This section is also the "terms" check box when you check out. If you feel that any info is missing or not properly described in this section PLEASE email us at cusotmerservice@ginnymaries.com! We LOVE customer feedback and are always looking for ways to improve.
Postal errors: All postal errors must be reported to your local post office. If you need to file a claim to retrieve your merchandise you will need your tracking # and our mailing address. Our mailing address is Ginny Marie's | 3920 Ridge Avenue | Macon, Ga. 31210. If USPS makes an error with your order we will replace your items provided that you file a claim within 10 days. please email us once this claim has been filed so that we can follow up with USPS on your behalf. Claims may be filed online or at your local branch.